[RO] De peste doi ani am descoperit produsele de la Pixi Beauty și pot spune că este unul dintre brandurile mele preferate de skin care, dar și de beauty. Produsele de la Pixi sunt variate, potrivite pentru fiecare tip de ten în funcție de cum este acesta.
Odată cu aniversarea de 20 de ani de Pixi, am primit și o cutie cu 7 produse care se află în lista celor mai apreciate. Ca de obicei Pixi m-au răsfățat cu o cutiuță foarte simpatică și de fiecare dată coletele lor îmi încântă ziua (chiar dacă este o alternativă nu foarte eco).
[EN] For more than two years I have discovered the products from Pixi Beauty and I can say that it is one of my fave brands when it comes to skin care, but beauty also. The prods from Pixi vary and you can find something for your skin type, surely!
Since Pixi celebrated #20YearsOfGlow I recieved a box with 7 appreciated products. Like every time, Pixi sent a really cute box and made my day brighter (although PR boxes can be wasteful as you know).
[RO] O să vă vorbesc despre produsele primite, unele dintre ele fiindu-mi deja familiare. Rujul MatteLast Liquid Lip în culoarea Pleasing Pink are o nuanță absolut superbă!
Cu toate că am o grămadă de rujuri și am zis că nu mai încep altele noi, rozul minunat de la Pixi m-a cucerit imediat. Nu aveam această culoare și chiar mi-o doream. 😂
Textura rujului e foarte plăcută și se simte confortabil pe buze. Și chiar rezistă destul de bine! Eu mai aveam un ruj Pixi de acest tip și deja îmi era familiar.
[EN] I will talk to you about the products that I recieved, some of them being already familiar to me. The MatteLast Liquid Lip lipstick in the shade Pleasing Pink has a really wonderful shade!
Although I have so many lipsticks and said that I won't start a new one, the lovely pink from Pixi instantly caught my eye. It has a beautiful shade that was already on my wishlist so that is that. 😂
The texture of the lipstick is really nice and feels so comfortable on the lips. It is also pretty long lasting. I already had a Pixi lipstick from this range so it was familiar to me.
[RO] Crema Rose Ceramide Cream deja o aveam. Vechiul ambalaj era din acela metalic ca să zic așa iar acum văd că este unul de plastic, ceea ce încă nu știu dacă mă încântă.
Este o cremă superbă care îmi hihdratează tenul minunat. Este perfectă pentru orice anotimp, mai ales la trecerea dintre anotimpuri. Îmi simt tenul așa fericit când și după ce aplic această cremă. Miroase și frumos, subtil, a trandafiri și mereu mă duce cu gândul la o zi caldă de primăvară.
[EN] The Rose Ceramide Cream is one that I already had. The previous packaging was sort of a metallic one and now I see it is plastic so I am not sure about the change but I will see later.
It is a wow cream for me since it nicely hydrates my skin. It is perfect for any season, especially when the seasons change and my skin suffers more. My face and neck feel so happy when and after I apply this product. It also has a pretty smell, a subtle rose scent that I love and makes me think of a warm spring day.
[RO] Glow Tonic este un tonic tare interesant de la Pixi. Rolul lui este să exfolieze blând tenul. Conține și o cantitate mică de AHA și de aici rolul exfoliant.
E un produs pe care l-am folost mai des la început, însă acum îl folosesc la nevoie. Trebuie să aveți grijă când folosiți produse de acest tip, să vă cunoașteți mai bine tenul pentru a nu-l irita. Eu am un ten mai deshidratat așa că nu simt că am nevoie des de exfoliere.
[EN] The famous Glow Tonic from Pixi is really interesting. It has a gentle exfoliating role since it also contains a small quantity of AHA.
It is a product that I used pretty often at first but now I only use it when I feel the need to. You have to be careful when using AHA or BHA or other acids on your skin so you won't irritate it or harm it. I have a dehydrated skin usually so I do not feel the need for a daily exfoliation.
[RO] Glow Mist cu propolis și ulei de argan este nou pentru mine, cu toate că m-am mai bucurat de un mist fain de la Pixi. Acest mist miroase și el frumos tare și are rol de a reîmprospăta tenul și de a-l hidrata și hrăni.
Conține și 13 uleiuri care fac tenul să fie mai proaspăt și sănătos. Poate fi folosit și peste machiaj pentru a-l seta sau pentru a-l reîmprospăta. E indicat chiar și pentru a obține un glow natural al părului!
[EN] Glow mist with propolis and argan oil is new for me, though I've tried out another mist from Pixi. This one also smells pretty and is made to refresh the skin, hydration and nourishment.
It contains 13 oils that give the skin that glowy healthy look. The product can also be used to set or refresh your make-up. It is also indicated for a glowy natural look of your hair!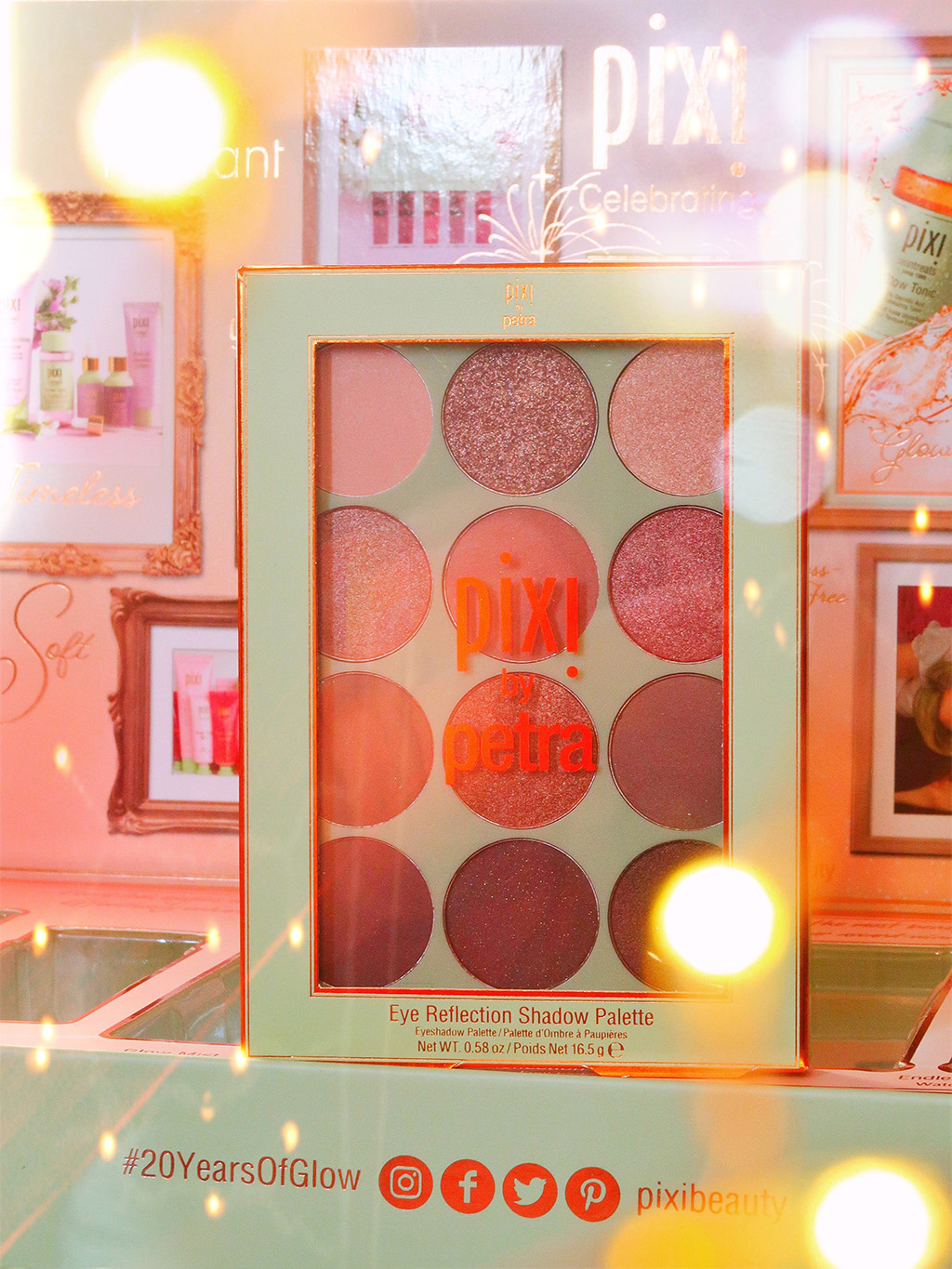 [RO] Paleta Eye Reflection Shadow Palette în culoarea Natural Beauty o aveam deja și pot spune că e o paletă faină. Culorile nu sunt chiar cele la care apelez cel mai des, dar sunt tare pigmentate. Poți obține un machiaj natural și frumos potrivit pentru orice moment al zilei.
[EN] The Eye Reflection Shadow Palette in the shade Natural Beauty is one that I already have and I can say that it is really nice. The shades are not those that I use on a daily basis, but they're highly pigmented. You can obtain a natural pretty make-up suited for any time of the day.
[RO] Am primit și un creion de ochi negru. Endless Silky Eye Pen pare fain la prima impresie. L-am dăruit mamei mele deoarece este unul waterproof și ea are nevoie de creioane de acest tip deoarece îi lăcrimează ochii. Am sesizat multe nuanțe superbe în gama aceasta de creioane Pixi!
[EN] I also recieved a black eyeliner. The Endless Silky Eye Pen seems really nice as a first impression to me. I gifted it to my mom since it is a waterproof one and she needs it for her teary eyes. I noticed many beautiful sahdes for this crayon so go check it out!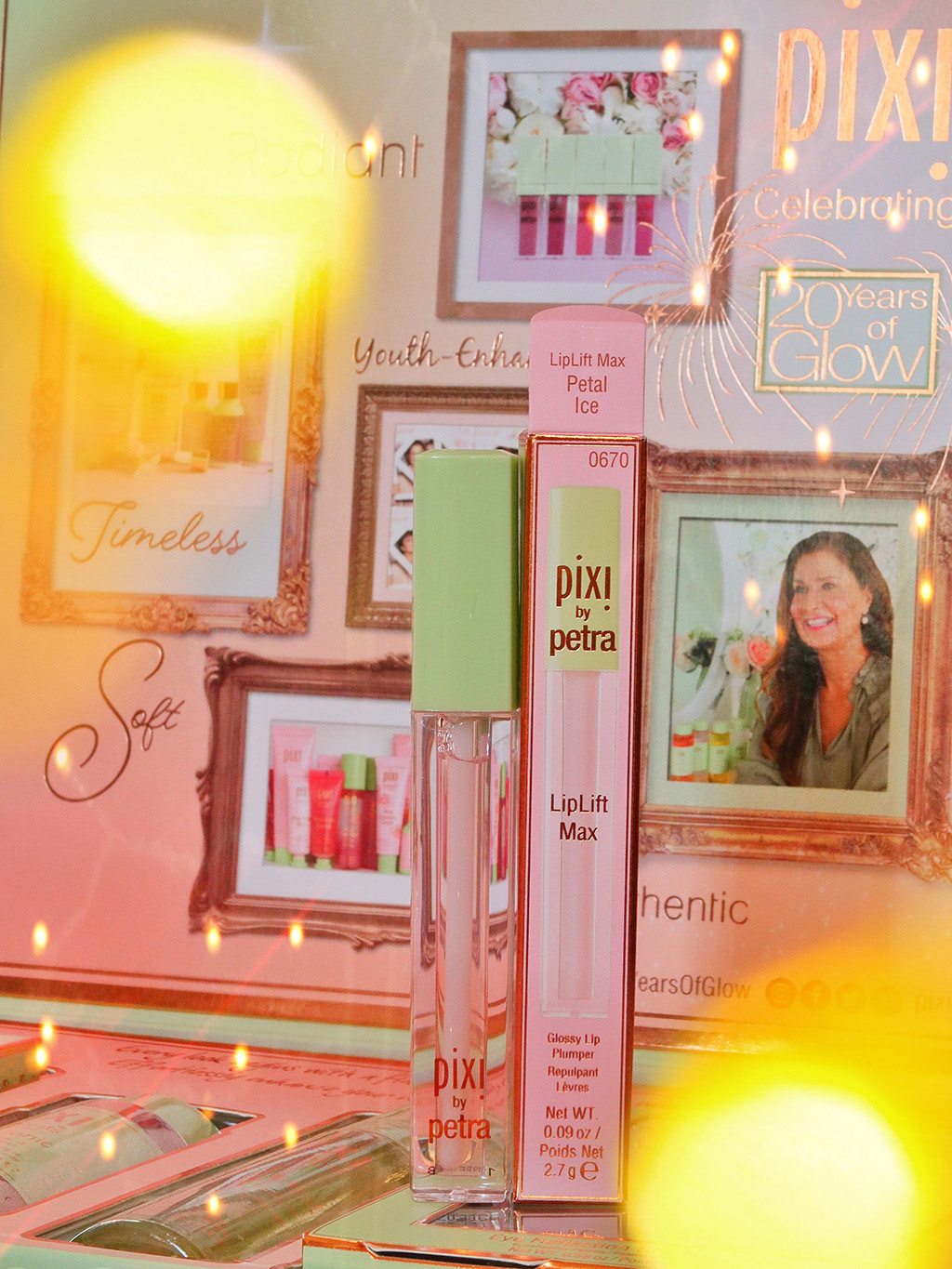 [RO] Ultimul produs primit este un gloss transparent în nuanța Petal Ice. La prima vedere chiar pare transparent, dar e vag rozaliu. El are rolul de a face buzele mai voluminoase. Îmi plac glosurile de la Pixi cu sclipici și încă mă gândesc dacă să îl încep acum și pe acesta sau mai aștept. Cine nu vrea buzele un pic mai pline și hrănite în același timp? Ulei de jojoba, aromă de mentă, mușețel pentru hrănire și aloe pentru vindecare… yum!
Cam acestea sunt produsele pe care le-am regăsit în pachetul meu. Pixi a reușit să mă cucerească cu foarte multe produse și de aceea sunt tare curioasă să încerc și alte produse de la acest brand.
Tu ai folosit produsele Pixi? Cum ți se par cele pe care le-am primit? 😘
[EN] The last products is a gloss in the shade Petal Ice. I kind of looks transparent. It is perfect for maximizing your lips, plumping them up while takin care of them with some jojoba oil, chamomille, aloe and a minty flavour and freshness!
These would be the products that I found in my surprise package. Pixi managed to charm me with many of thei prods and that is why am curious to try out more from this brand.
Have you tried out the Pixi products? How do you find the ones that I recieved? 😘