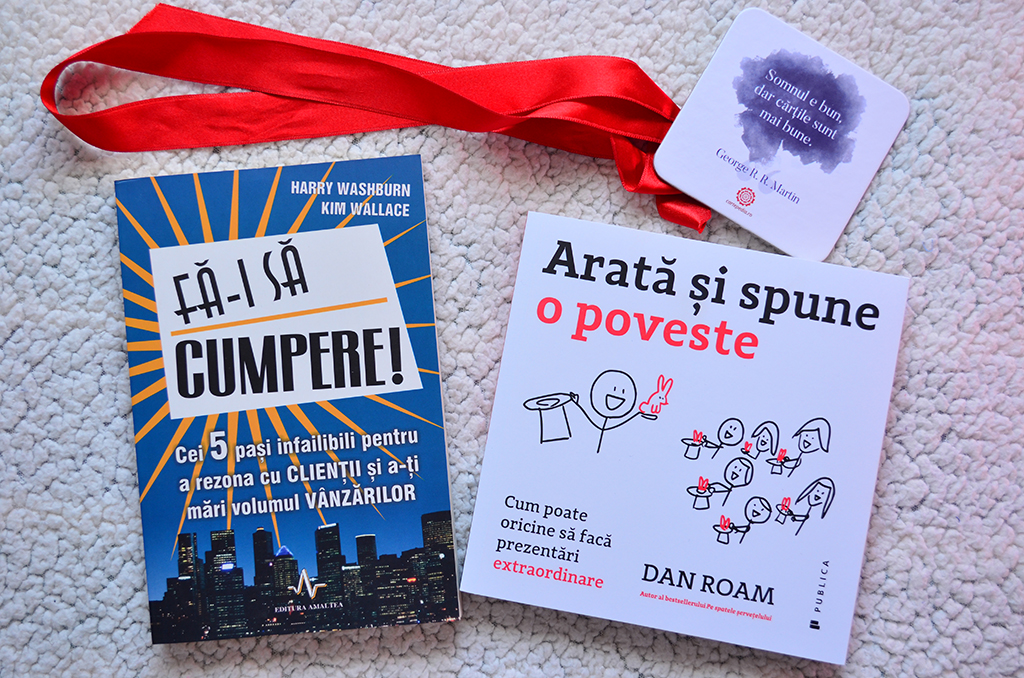 [RO] Cu toate că uneori am senzația că niciodată nu mi se va mai goli turnul de cărți de pe noptieră, acest lucru cumva mă bucură pentru că mereu am ocazia să pot citi ceva, dacă se poate ceva interesant și de ce nu, ceva diferit.
Chiar dacă am anumite genuri în jurul cărora îmi place să mă învârt, încerc ca ocazional să descopăr și alte tipuri de lecturi, care să mă ajute, să îmi destreseze mintea sau să îmi ofere informații ajutătoare.
În această perioadă am citit de zor două cărți menite să te ajute în prezentări și vânzări de produse/idei. Nu pot spune că am fost dată pe spate, dar o parte dintre informațiile descoperite mi s-au părut extrem de ajutătoare și cumva deschizătoare de portițe.
Eu le-am primit de la Cartepedia, noii mei sponsori plini de entuziasm și idei, și am avut parte și de super surprize în colețel (se poate vedea deja suportul de pahar și panglica magică) despre care vă voi vorbi cât de curând într-o nouă postare. 😍
Imaginile simplificate, duc la prezentări de excepție
Arată și spune o poveste de Dan Roam este prima carte pe care am luat-o la rost timp de câteva seri, înainte de culcare. Fiind o carte potrivită pentru cei care doresc să facă prezentări extraordinare, am simțit că m-ar putea ajuta atunci când vine vorba de YouTube sau de alte situații în care ar trebui să vorbesc unor persoane noi sau unui public mai larg.
Aceasta este prima carte pe care eu o am de la Editura Publica (așa țin minte) și pot spune că acum am descoperit și eu culorile dintre pagini. La această editură se găsesc multe cărți ce țin de domeniul afacerilor, al dezvoltării personale și altele de prin aceleași genuri, iar interiorul lecturilor este presărat și cu ceva ce lipsește din alte cărți de acest tip: culoarea.
Revenind la oile noastre, am apreciat foarte mult modul în care autorul și editura au oferit cititorului idei pentru a-l ajuta. Cartea este structurată simplist și cred că în acest mod nu doar că te ajută să înțelegi ideile de bază, dar și demonstrează toate afirmațiile lui Dan Roam.
Recomand cu mare încredere această carte celor care doresc să afle, fără prea mult chin, sfaturi pentru a avea prezentări de excepție. Eu tot am rămas cu gândul la P.U.M.A aceea în diversele ei poziții. Cine a citit cartea, știe desigur despre ce vorbesc! 😄
👩‍🎤
[EN] Even though sometimes I have the feeling that my tower of books near my bed will never end, this thing somehow makes me happy since I have the occasion to read something new, interesting and why not, different.
I have some genres that I usually revolve around but I occassionaly will discover other types of books, which cand help me, which can relax my mind and maybe offer me some helpful info.
In this period I've read two books that are meant to help you in presentations and selling of products/ideas. I can't say that I was blown away by them, but a part of the information that I've discovered was quite useful and somehow mind opening.
Simple and concrete images can make a great presentation
Show and Tell: How Everybody Can Make Extraordinary Presentations (my version is in romanian, Arată și spune o poveste) by Dan Roam is the first book that I've fiddled with for a few nights, just before going to sleep. Since it is a book good for those who want to make extraordinary presentations, I felt that this could help me when it comes to YouTube or other situations where I need to talk to a large group of people or to new persons.
Interesting fact: This is my first book from Publica Publishing House and I was really happy to see some colour on the pages, woo! It's so awesome that they do this kind of printing.
I appreciated the fact that the author and publisher made this book easily to understand and read: through images and colour. The book has a simple structure and this can help so much in understanding the base ideas, but it also demonstrates all of Dan Roam's beliefs.
I really recommend this book to those who want to find out, without too much struggle, advice for doing exceptionally presentations. I am still thinking about the P.U.M.A. in its diverse positions. Who has read the book, knows what I'm talking about! 😄
Pe de altă parte, Fă-i să cumpere de Harry Washburn și Kim Wallace vine cu o abordare diferită, legată de cum să îți prezinți ideile și produsele pentru a îi face pe clienți să cumpere. Cu toate că această carte este mult mai stufoasă, am considerat-o mult mai plictisitoare, comparativ cu prima.
Consider că o carte care are ca rol să te învețe ceva trebuie să fie foarte bine organizată și prezentată. Ideile cât mai simplificate sunt de mare ajutor, la fel și prezența imaginilor sau a unor exemple concrete, dar nu prea voluminoase. Chiar daca pe alocuri am întâlnit câteva imagini, acestea nu au fost îndeajuns de ajutătoare precum mi-aș fi dorit și probabil că ghinionul pentru Fă-i să cumpere la constituit faptul că am comparat stilul cărții cu a celei anterior prezentate.
Se pare că încercând cărți diverse chiar pot descoperi informații care să mă ajute și cred că ar trebui să faceți și voi la fel. Din când în când, puneți mâna pe o carte cu totul diferită de ceea ce obișnuiți să citiți și veți vedea că descoperiți lucruri foarte interesante, atât din punctul de vedere al cărților, cât și din cel al percepției voastre pentru informații noi. 😉 
[EN] On the other hand, Why People Don't Buy Things: Five Five Proven Steps To Connect With Your Customers And Dramatically Improve Your Sales (my romanian version, Fă-i să cumpere) by Harry Washburn and Kim Wallace came with a different approach, based on how you can present your ideas and products to make customers buy. Although this book was richer in text, I found it kind of boring, comparative to the first one.
I think that a book that has the purpose to teach you something, must be well organised and presented. Simplified ideas are really helpful, and so is the presence of images and of concrete examples (not too voluminous, please!). I found a few images through this book but I didn't feel that they were really useful. Maybe this second book had back luck since I kept comparing it to the first one that I read.
It seems that by trying new books I can really discover info that is helpful for me and I think that you should also try doing the same. From time to time, get your hands on a really different book from what you usually read and you will see that you can discover many interesting things, may it be coming from the books or from your perception on them. 😉